Altay's wintertime play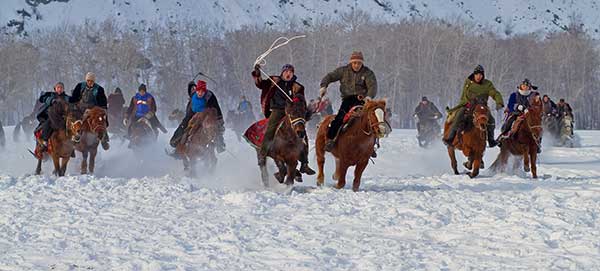 Herdsmen take part in a winter horse race.[Photo provided to China Daily]
A Xinjiang prefecture's cold-season allure is heating up. Yang Feiyue reports.
Altay has long been beloved as a summer getaway, but it has increasingly been conjuring up charm as a winter wonderland.
The prefecture in the north of China's Xinjiang Uygur autonomous region is coated with "quality snow" for up to 180 days a year, Altay's deputy Party secretary Li Bin says.
"Its skiing conditions may well be on par with the Swiss Alps."
Some archeologists believe the area was among the first places where humans discovered skiing. Paleolithic rock paintings of people using skis were discovered in 2005.
Primitive larch forests ring Kanas Lake. Surrounding aspens and birches are sheathed in rime.
The surrounding snow can average up to 2 meters deep in winter.