Land of grapes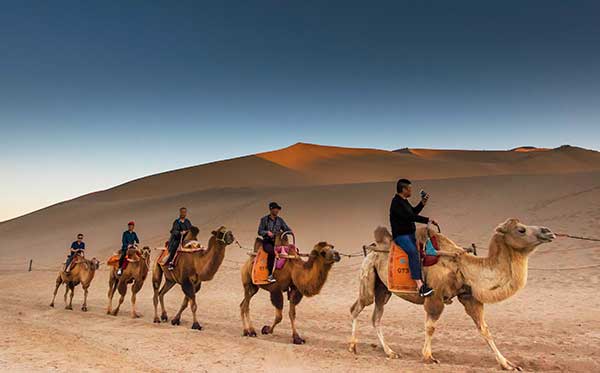 Visitors take camel rides to explore the charm of the sand dunes in Dunhuang, Gansu province.[Photo by Qiu Lei/For China Daily]
Dunhuang, with its large collection of Buddhist art, also offers agritourism and street food. Xu Lin reports.
A recent visit to Dunhuang, an important destination on the ancient Silk Road, revealed its awe-inspiring natural scenery and delicious food. The city located in Northwest China's Gansu province is striving to develop its agritourism. Hotel lobbies usually exhibit fruits such as grape, watermelon and peach, all grown locally as well. It's difficult to resist their temptation, so some visitors end up buying them before leaving the city. Other choices include raisins and dried fruits.
The government compensates the local farmers for displaying the fruits in the city's hotels for free tasting so as to promote them among travelers.
The city held its annual grape tourism festival in summer, with activities such as forums and a fashion show.
"Dunhuang's advantage is tourism, and to combine agriculture with tourism will help more farmers to lift themselves out of poverty. We're striving to draw tourists to enjoy grapes and dishes made from local farm products," said Zhan Shunzhou, Party secretary of Dunhuang.
Annually, Dunhuang produces 200,000 tons of grapes, which are sold in more than 30 Chinese cities.
Zhan said the city administration is making efforts to standardize the grape industry, ranging from packaging to transportation, and focusing on promoting the fruit on e-commerce platforms.
About 60 kilometers from downtown is Yangguan town. Its pillar industries are grape-planting and tourism. With its ecology and difference in temperature from day to night, the grapes there are sweet and tasty.